L'objet de tes nuits blanches
4 Feb - 14 Feb 2021
Studio 8006, Cite Internationale des Arts
Vincent Ceraudo
Anders Dickson
Kiarash Khazaei
Clemence De La Tour de Pin
Ani Schulze
Ittah Yoda
Accompanying text by Anabelle Lacroix
Organised by Ittah Yoda
As a group, we have been having regular discussions together through studio visits,
apéros, screenings and performances. We share common interests as such as dreams,
various levels of (un)conciousness, magic, deep time, and mythology.
With this exhibition we are continuing this dialogue between us through our work,
in our studio at the Cité des Arts. All Welcome.
---
I trace you
as I erase you
I am dispersed
your confidence puzzles me
and I've refused to think about you
as you are tension
you smoke a lot
you are alone
and you wait
your lack of words
disappears
in the night's stillness
not surprising me
you insist
you are the flight
you flicker
in the absence that contains you
you are movement
like a slow, and deep
stretch in a plane's bathroom
you are a bit aloof
drifting by sensing
you reach out
you are process, adventure, journey
always there
you live fully
like siblings
fighting on a couch
throes of a magic high
you drive into me
you surround me
on the rim
you move away
ships in the night
you and I
you are not ashamed
of your desire
for sex
for language
for geographies to merge
to cross over
you are warm
you are I
singular multiple
home as self
home as w-hole
Of homes as self
Anabelle Lacroix , 2020
---
Vincent Ceraudo (born in 1986 in Fontainebleau, France), is a visual artist based in Paris and Amsterdam. His works range from videos and films, to installations, photographs, and writings calling into question perception, the constructs of rationalism, and focuses on the experience and limits of the body, as well as the mechanisms of our sensory devices. He studied at the Villa Arson in Nice, (2008-2012) Postgraduate at Le Fresnoy in 2016. He is a fellow at the Skowhegan School of Painting and Sculpture in Maine USA, (2016) and was an artist in residence at De Ateliers in Amsterdam, The Netherlands (2016-2018) and received several awards including recently the Established Artists awards from the Mondriaan Fonds in Amsterdam in 2020, the CNAP research grants in Paris in 2019 and the the prize of the show-room in Art-O-Rama in 2014.
Anders Dickson lives and works between Holland and France. He attended the De Ateliers (2017-2019), The Staedelschule in Frankfurt am Main, and the Staatliche Akademie der bildenden Kuenste, Karlsruhe. His work has recently been exhibited at Balice Hertling , Paris (2020); Izacaia , Vienna (2020); Stadium , Berlin (2020); Wschod Gallery, Warsaw (2019); Annet Gelink Gallery , Amsterdam (2019); Lovaas Projects, Munich (2019); The Oracle , Berlin (2018); Vleeshal , Middelburg (2018); Gisela Capitain Gallery, Cologne (2018); The Beach Office , Berlin (2017), and Tanya Leighton Gallery, Berlin (2017). Dickson is member and co-founder of the Netherlands-based artist initiative Root Canal ( www.rootcanal.eu ). He is also a recent recipient of the Buning Brongers Prize (NL), and the Mondriaan Funds Grant for Emerging Talent (NL).
Kiarash Khazaei is born 1983 in Iran, currently lives and works in Paris. Khazaei studied at the Hochschule für Bildende Künste Städelschule, Frankfurt am Main (2015-2019) under Professor Amy Sillman and Monika Baer. In 2018 he participated in the Fire Island Artist Residency Exhibition, at Cherry Grove, Fire Island, New York. Upcoming exhibition at Lungley gallery (2021) [solo]. Kiarash Khazaei's paintings offer glimpses into a subliminal world. Strangely intimate, his figures negotiate a space for both ideas and feelings, inflicted with a nervous empathy. He paints with intuition and immediacy, attempting to purposefully broach the fragmented expanse of affect, of embarrassment and awkwardness. As layers overlap and forms collide, Khazaei's painting descends into a spectacle of action and associative reference where bodily experience, memory
and perception are implicated.
Anabelle Lacroix (she/her) is a French-Australian curator, writer and radio contributor. She is particularly interested in experimental forms involving performance, sound, speech and publishing. Working independently in Paris, she is currently based at Fondation Fiminco for a year-long residency focused on the politics of sleeplessness (2020). She is also a PhD Candidate in curatorial practice at UNSW Art & Design,
investigating the potential for sound, the voice and collective listening, as agents for institutional critique. Recently, she curated an exhibition for the Archives of Art Criticism in Rennes (France), and an overnight radio program in partnership with ZK/U – Zentrum für Kunst und Urbanistik in Berlin and Threads*sub_ʇxǝʇ radio.
Clémence de La Tour du Pin is an artist based in Paris and Amsterdam. Recent exhibitions include 15 Orient at Balice Hertling (Paris, France); Femtensesse (Oslo, Norway); Centre d'Art Contemporain (Delme, France); Billytown (The Hague, Netherlands); CAN (Neuchatel, Switzerland); 1857 (Oslo, Norway); Dortmunder Kunstverein (Dortmund, Germany); Galerie Tobias Naehring (Leipzig, Germany); Musée d'Art Moderne (Paris, France). Clémence de La Tour du Pin is a recipient of the Buning Brongers Prize (Netherlands) and the Cité Internationale des Arts (France).
Ani Schulze (*1982) is based in Cologne and Porto. In her videos, drawings, sculptures and expansive instal- lations she questions concepts of individuality and group identity as well as the change and meaning of the body as a site of cultic, social and architectural action. She studied at the Städelschule in Frankfurt am Main, the Glasgow School of Arts and the art academies in Düsseldorf and Karlsruhe. Her works have been shown in a number of solo and group exhibitions, screenings and talks, among others at the Salzburger and Kölnis- cher Kunstverein, I: Project Space in Beijing, Kunsthalle Schirn in Frankfurt, Galerie Nagel Draxler – Reisebüro- galerie in Cologne, the Oberhausen Short Film Festival and Extra City Kunsthal in Antwerp. Ani Schulze re- ceived scholarships and residencies from the Goethe-Institute China, Schloss Ringenberg, Kunststiftung NRW, AIR Antwerpen, Innogy Stiftung and CEAAC in Strasbourg.
Ittah Yoda is formed by Kai Yoda and Virgile Ittah based between Berlin, Paris, and Tokyo. They both attended the Royal College of Arts in London. Coming from diverse backgrounds, they have developed their artistic identity as a duo through mixing traditional processes with digital technology, a vector of cross-cultural creative collaborations with a focus on the collective and deep time.
Recent exhibitions include; La Petite Galerie, Cité internationale des arts, Paris (FR); Sprout Curation, Tokyo (JP); PM/AM Gallery, London (GB); Carlier Gebauer, Berlin (DE); Gr_und, Berlin (DE); Averard Hotel, London (UK); Annka Kultys Gallery, London (UK); and Nicodim Gallery, Bucharest (RO). Ittah Yoda is a recipient of the Stiftung Kunstfonds (DE) and the Cité Internationale des Arts (FR), VR residency by Institut Français (FR), and Rupert Residency (LT).
---
Installation view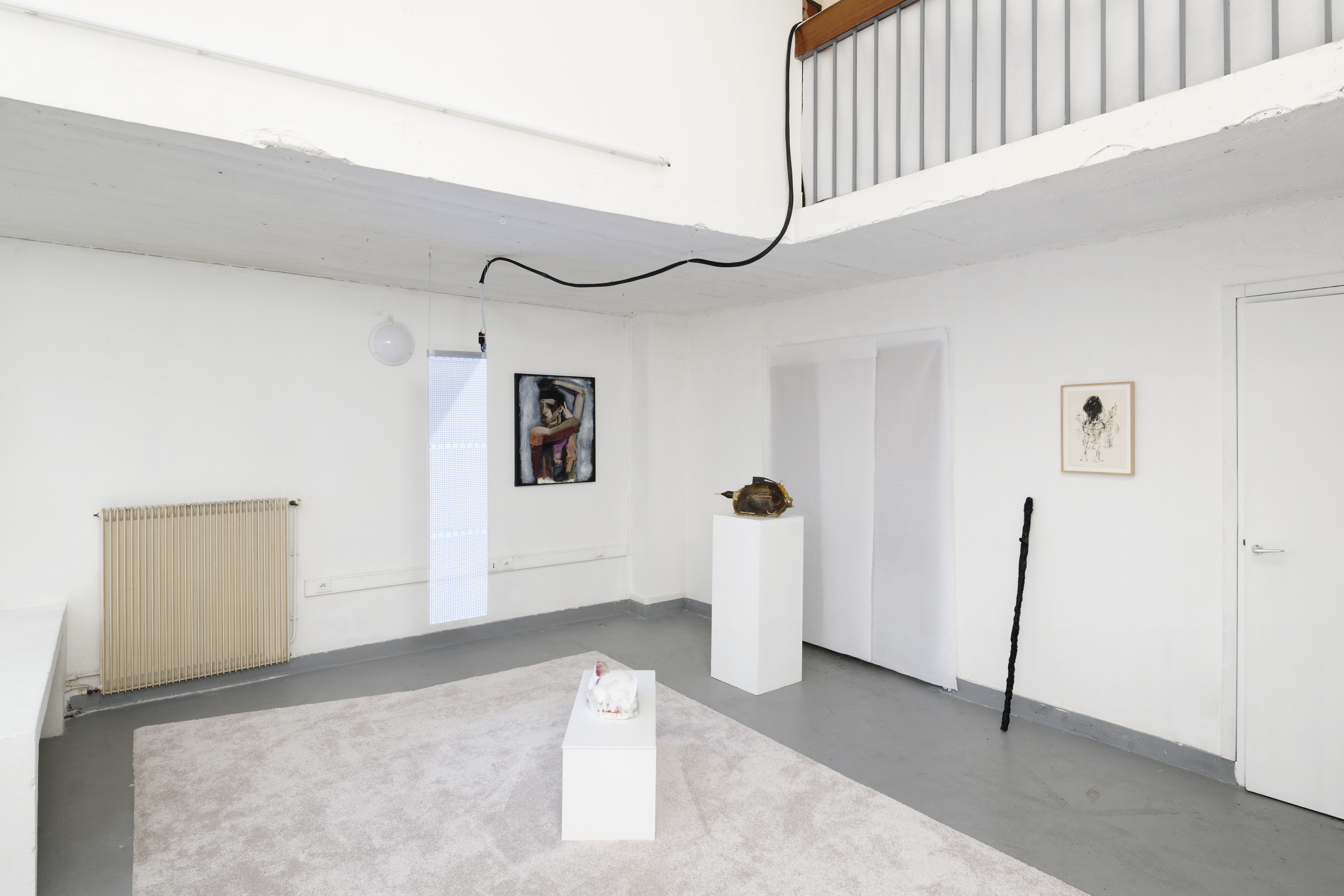 Installation view
Installation view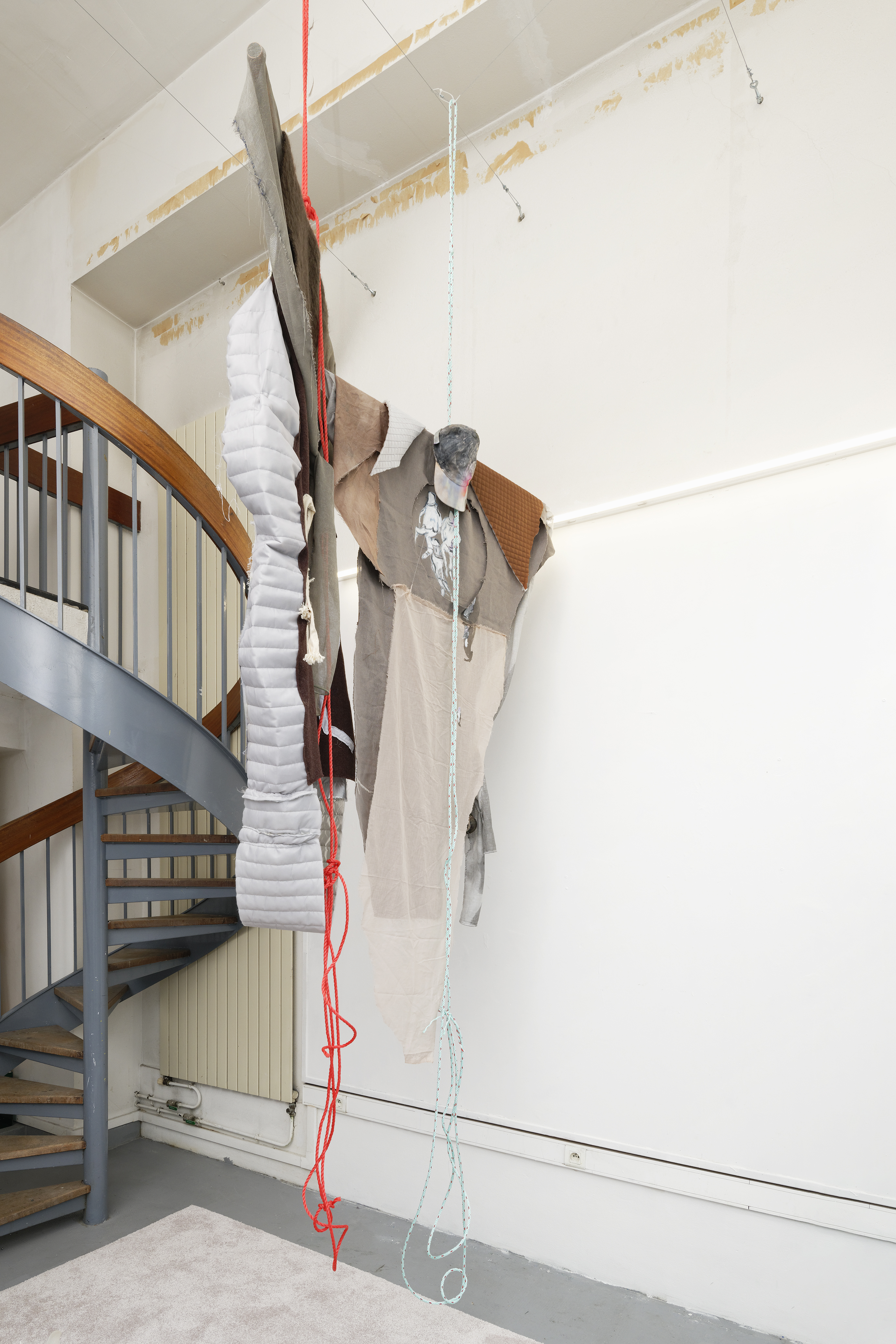 Ani Schulze, Les Chiens de Garde, and Charlatan, both 2021, copper, wool, felt, quilting fabric, watercolour on cotton, coins, bottle, cap, rope, acrylic on linen, dyed cotton, ball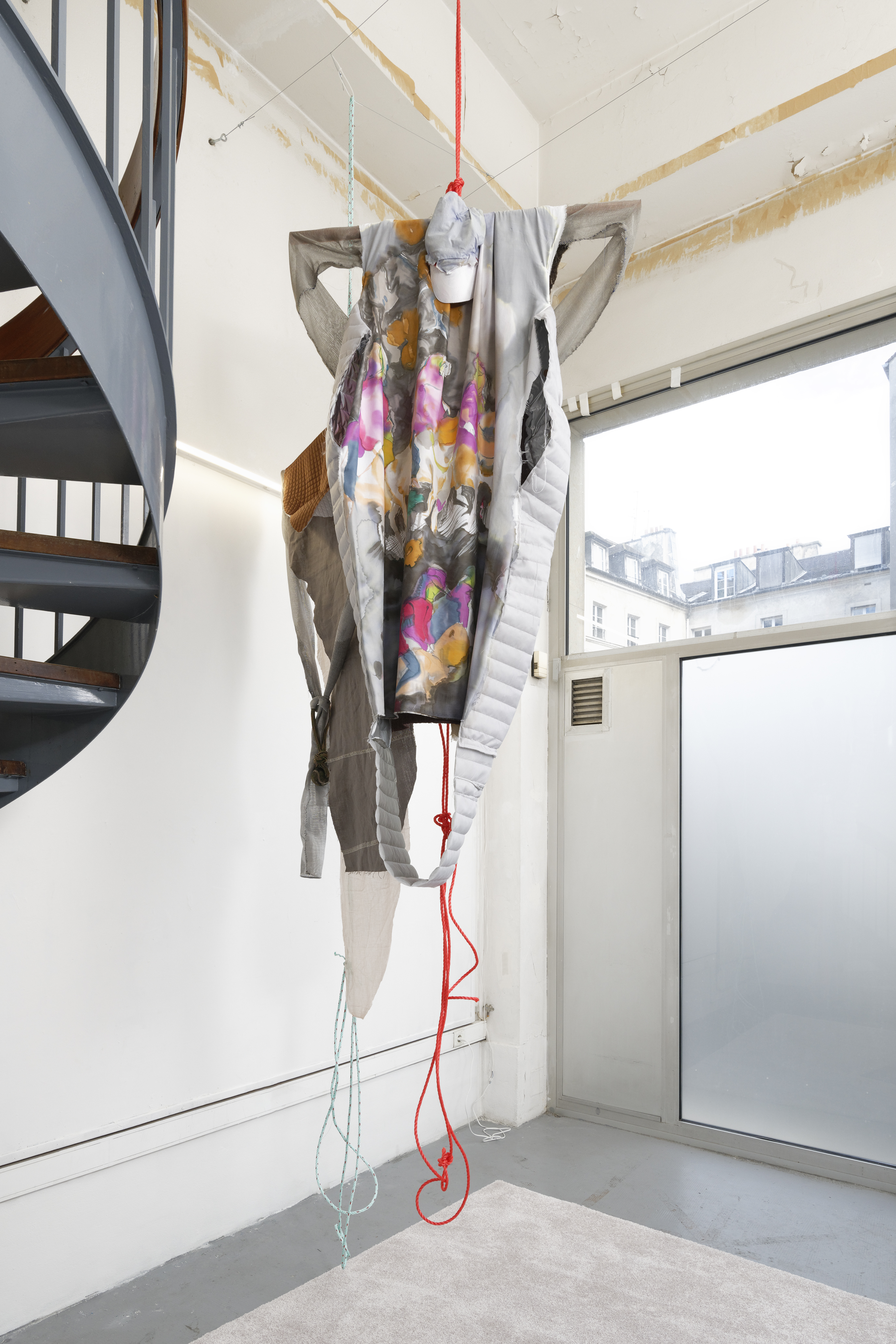 Ani Schulze, Les Chiens de Garde, and Charlatan, both 2021, copper, wool, felt, quilting fabric, watercolour on cotton, coins, bottle, cap, rope, acrylic on linen, dyed cotton, ball
Vincent Ceraudo, A journey Around my room, 2020, Charcoal and ink on paper, 30x40cm, and Untitled, Les Objets magiques, 2019, Wax and resin,100x3x3cm
Installation view
Kiarash Khazaei, untiled, 2010, oil on paper mounted on canvas, 71x86cm
Clemence de La Tour du Pin, Window Study 5, 2020, Watercolor on paper, 45x30 cm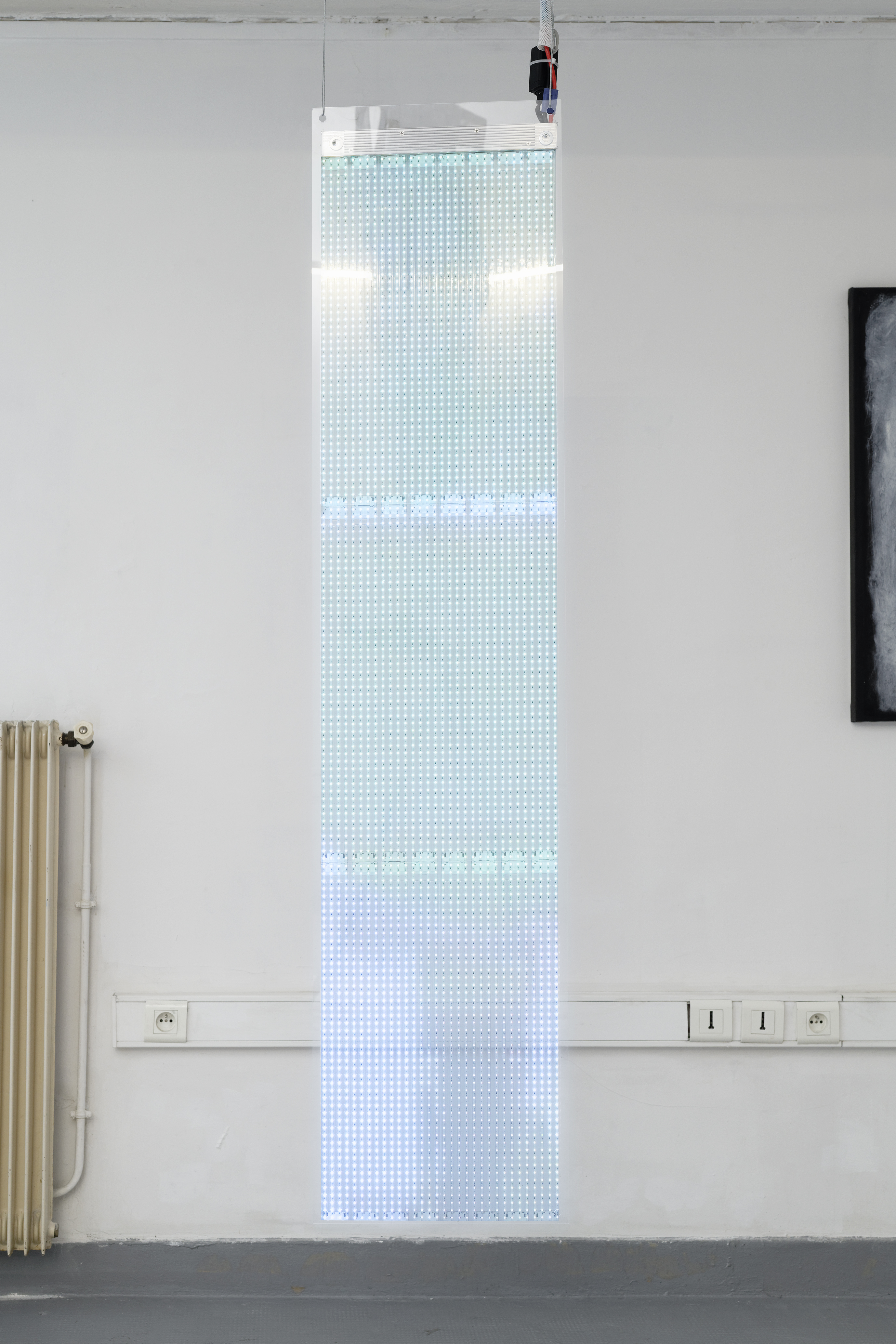 Installation view
Anders Dickson, congested sinus, 2021, cardboard, tea bags, wire, thermal plastic, shellac, tinsel, paper, glue, paint, straw, 40 x 25 x 25cm
Anders Dickson, congested sinus, 2021, cardboard, tea bags, wire, thermal plastic, shellac, tinsel, paper, glue, paint, straw, 40 x 25 x 25cm
Ittah Yoda, L' objet de tes nuits blanches, 2021, Pâte de verre, casted glass, 22x35x14cm
Ittah Yoda, L' objet de tes nuits blanches, 2021, Pâte de verre, casted glass, 22x35x14cm
o